Nalini Asha Biggs
Communications, Website Manager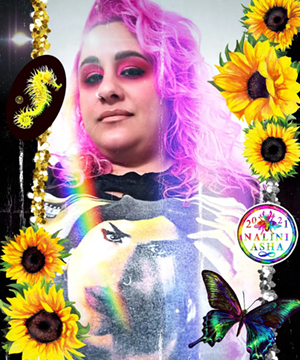 9500 Gilman Dr
Office: MCC 122B
La Jolla , California 92093
Bio
When to contact me
Resources
Bio

Pronouns: She/her, They/them

I support scholars and activsts in their digital communications through website architecture and management, social media strategy, and other digital multimedia communications.

I am a former Doctoral Candidate in the Department of Communication here at UC San Diego where I focused on Media Production, Disability Studies, Critical Theory, and obsessing over Foucault. My previous academic experience is at the intersection of Comparative and International Education, Special Education, HIV/AIDS Education, and Deaf Studies.

 

 
When to contact me

I handle the following areas of our department's needs. 
Design and maintain website architecture and content
Produce original content for news website and
social media
Manage digital sign in lobby
Produce other digital media such as departmental
photos and signs
Training and support for academic communication
To update your profile information please review the COMM-NET Website Profile Page for detailed instructions and a form. Please do not email your profile changes directly to Nalini unless otherwise directed. 
If you have a news item you wish to be shared on our website that directly involves a current or previous member of the department including graduate and undergraduate alumni please use our News and Events Coverage Request form.
Please use the following address for general queries about the website and social media content including profile requests:  comm-webmaster-g@ucsd.edu
If you have questions regarding technical needs outisde these parameters contact our our Technology and IT support team member Joe Castro. 
Resources