Contact Us
Address
Department of Communication Mail Code: #0503


Media Center and Communication Building (MCC)
University of California San Diego
9500 Gilman Drive., La Jolla, CA
92093-0503
Departmental Contacts
Visit our People profiles for more contact information. 
Follow us:
Follow the Department of Communication has official accounts at the following locations:

Facebook: https://www.facebook.com/UCSDCommunication
Instagram: https://www.instagram.com/ucsdcommunication
Twitter: https://twitter.com/ucsdcomm
Tumblr: https://ucsd-comm.tumblr.com/
Youtube Channel: https://www.youtube.com/channel/UCRvpqSj2YQLAHPVCFG0eOyg
---
Map
The department is situated on the west side of the UCSD campus, with access from the I-5 via La Jolla Village Drive (UCSD MapLink has further maps of campus and driving directions)
Parking
Parking on campus is limited. UC San Diego offers Visitor parking in various locations, the closest to our building being the Scholars Parking Garage and the Hopkins Parking Structure. Visitor spots are found on the top floor with accessible parking and paths to our building. The parking structures are roughly a 5 minute walk to our building.
You can pay for Visitor Parking in the structures using pay stations or by downloading the ParkMobile application to your mobile device. More information on this app can be found on Transportation Services.
Addresses:
Hopkins Parking Structure: 9730 Hopkins Dr, La Jolla, CA 92037

Scholars Parking Garage: 9500 Muir College Dr, La Jolla, CA 92093
---
Ridge Walk North Living and Learning Neighborhood
Starting from Monday, June 19, 2023 the fencing will be installed, rendering the parking lot behind MCC inaccessible. This parking lot is scheduled for demolition and will no longer be available for parking in the future. However, Scholars Garage, Pangea, and Hopkins will remain available as parking options.
During the summer, if you plan to visit the campus, we recommend parking in the Scholars Parking Garage, which is located below the new Public Engagement building. It is a convenient option for parking your vehicle.

Here is a diagram illustrating the construction of a fencing system.
The yellow line is the construction fence. There will be no access within the yellow lines.




The COMM building is immediately left of the number 3.




Hopkins Parking structure is at the top of the frame above Voigt Dr.

Pedestrian detour map - Summer 2023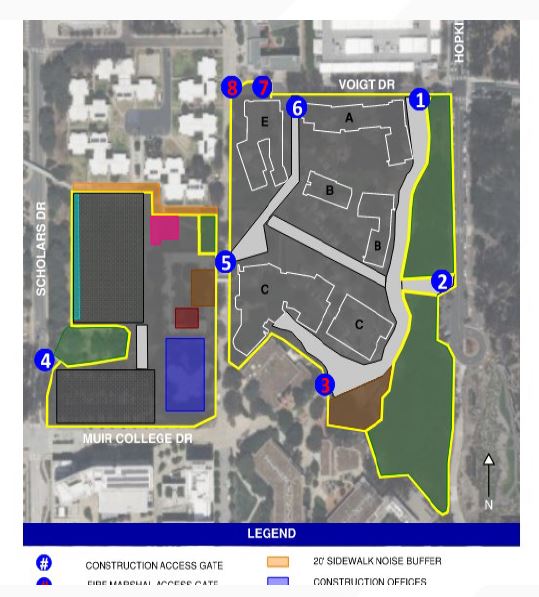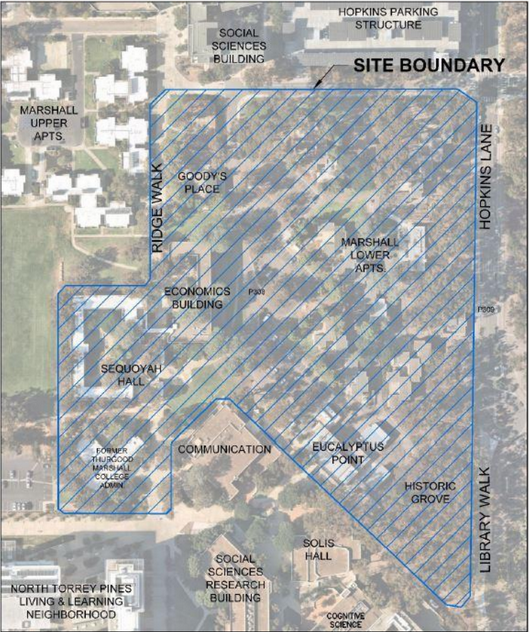 ---