Articles, Book Chapters, and other Publications
"The question of press freedom and populism in the Latin American mirror: A qualitative study on concepts of freedom, its relationship with professional journalism and the crucial role of the state" (2021)
Manel Palos Pons and Daniel C. Hallin
Citation
PALOS PONS, Manel; HALLIN, Daniel C.. Press Freedom and Media Reform in a Populist Regime: How Ecuadorian Journalists and Policy Actors See the Correa Era. International Journal of Communication, [S.l.], v. 15, p. 18, feb. 2021. ISSN 1932-8036. Available at: <https://ijoc.org/index.php/ijoc/article/view/15156>.
Abstract
This article considers the debates about press freedom raised by an important case of populist media reform in Latin America, drawing on interviews with Ecuadorian journalists, policy makers, and commentators involved in the policy process. Whereas these cases are commonly understood, following a "libertarian" conception of press freedom, as threats to an independent press, interviewees saw a more complex picture. The majority agreed that press freedom was threatened under former president Rafael Correa's regime in Ecuador; at the same time, most of respondents considered media regulation necessary given a history of "media capture," and believed that journalistic professionalism had improved in Correa's period. These results suggest that press freedom is a multidimensional reality in which the state plays a key role, proposing a further discussion about media regulation and populism in contemporary societies.
Authors' Commentary
"In this article, we analyze the case of media policy under Rafael Correa's populist presidency (2007-2017) based on interviews with journalists and media policy actors, in which we explore their views on state regulation of the media, the effect of Correa's media policy on press freedom, and the evolution of journalistic professionalism in Ecuador. As we shall see, most of our interviewees supported state regulation of the media in principle. They were divided about the effect of Correa's policies on press freedom, although the majority were sharply critical of important aspects of Correa's policy. Finally, and surprisingly, most believed that journalism had become more professional during the Correa era. We argue that the negative concept of press freedom, in which only state oppression seems to be the threat to freedom of the press, is too narrow to comprehend a case like Ecuador, where a populist regime triggered bold media reforms, and we need to move instead toward a multidimensional and historical perspective that considers the full range of influences on the difficult development of an independent, professionalized, and democratic media, considering the role of the state within that larger context".

"Our analysis focuses on the context of a populist regime in a developing country where democratic institutions and the media that serve them have always been shaky. This is, in general terms, a common context around the globe. But it would probably be naïve to imagine that the issues it raises are confined to such conditions, without relevance to "advanced" Western democracies. Shifts in the structure of media, in media policy in the context of neoliberal deregulation, and in party systems have produced increased media polarization, rising partisanship, and a worrisome spread of new types of propaganda in many advanced democracies as well, and they too may need to confront a debate about negative and positive conceptions of press freedom and the discussion about how independent, democratic media can be reconstructed". 
Human Rights at the Border Fact-Finding Report 2020
The report entitled, "Zooming to the Border for Human Rights: A fact-finding report on the ongoing violations of human rights at the U.S.-Mexico Border" draws from a series of public Zoom panels conducted in consultation with community groups working on issues pertaining to migration, labor and the environment on both sides of the border, and along its full east- west extension from the Gulf Coast the the Pacific Ocean. Originally conceived as a face-to-face fact-finding trip in Summer 2020, during the height of the pandemic, rather than canceling the project, we switched to a virtual format during the height of the pandemic. The report, therefore, also documents the added impact of COVID-19 on the already dire and dismal conditions at the border alongside as well as the valiant efforts in these border communities to meet this these additional challenges. In addition to working on the executive summary, Associate Professor Elana Zilberg and Ph.D. student Joe Moreno co-authored two chapters in the report, working in collaboration other academics, journalists, advocacy groups and activists for dissemination to elected officials, activists and advocates. 
The document is currently being disseminated among activists, journalists and policy makers. The report as well recordings of the panel discussions are both available on-line at the following links:
http://www.tribunodelpueblo.org/zooming-to-the-border-for-human-rights/
http://peoplestribune.org/pt-news/border-human-rights-videos/.  
"This is, I think, a good example of the kind of public facing research and engaged learning that are is valued in the Communication Department. I incorporated these panel discussions in my winter course, "COMM 111C "Global Borders: Communication and Conflict"  with great success. The project is ongoing, and we hope to hold an in-person conference with all the panelists in 2022-2023." ~ Elana Zilberg
WORKING FOR HUMAN RIGHTS ON BOTH SIDES OF THE BORDER (BORDER PANEL #4)
MILITARIZED BORDER COMMUNITIES: DOCUMENTING THE ENFORCEMENT LANDSCAPE (BORDER PANEL #5)
THE DEADLY IMPACT OF THE SOUTHERN BORDER WALL (BORDER PANEL #3)
RESISTANCE OF THE BORDER WORKING CLASS IN EL PASO/CD. JUAREZ (US-MEXICO BORDER PANEL #2)
MIGRANT PROTECTION PROTOCOL (MPP) DESTROYS LIVES ON THE SOUTHERN BORDER
"So, it's like you're swimming against the tide": Didactic avowals and parenting as intersectional Muslim women in the United States
Citation
Marwa I. Abdalla & Yea-Wen Chen (2021) "So, it's like you're swimming against the tide": Didactic avowals and parenting as intersectional Muslim women in the United States, Journal of International and Intercultural Communication, DOI: 10.1080/17513057.2021.1896768
Abstract
Muslim parents in the United States negotiate their intersecting identities and roles as parents amidst increasing (white) nationalism and anti-Muslim racism. In this qualitative study, we draw on cultural identity theory (CIT) to examine how sixteen cis-heterosexual/educated/able-bodied Muslim women parenting children in the United States make sense of their identity negotiations as individuals and parents. Our analysis identifies three overlapping themes highlighting struggles and resilience while parenting. We offer the concept of "didactic avowals" that describes contextually-contingent avowals aimed at instructing and disrupting hegemonic stereotypes and conclude by discussing the implications of these findings in light of CIT.
"I am indebted to conversations with cohort members and faculty in my core COGR seminars at UC San Diego for undoubtedly shaping my thinking as I worked through multiple revisions of this paper as well as to my first year advisor, Dr. Caroline Jack, for her encouragement to find time to write." ~Marwa I. Abdalla
https://www.tandfonline.com/eprint/59NK8P8ZESWFGVCIQMZA/full?target=10.1080/17513057.2021.1896768
Professor Emerita Dr. Chandra Mukerji reflects on the Decameron and the current pandemic
In response to the pandemic which erupted during the transition from Winter to Spring quarters, Dr. Chandra Mukerji published an article with Public Books, "an online magazine of ideas, scholarship, and the arts". Mukerji's piece reflects on Giovanni Boccaccio's 14th century Decameron which was written shortly after the "Black Death," a catastrophic plague that killed 50-60% of southern Europe's population. 
When faced with a pandemic, Boccaccio learned—as we have—that people do not need new moral principles to guide them, but rather means to invent new lives, find inner strength, and laugh off the horror of loss. Boccaccio understood that the plague was a cause and a signal of an old world passing and a new world coming into being. So, in the Decameron, he offered one hundred preposterous, often funny, wise, and risqué tales of human vulnerability and strength.
Professor Mukerji draws similarities and differences between the Black Death and the COVID-19 pandemic, offering insight into how we might learn from such stories.
"The Decameron piece was the result of a friend reading my modernity book that starts with the plague. With so many people dying, social relations had to be reimagined and redesigned. The Decameron piece points to the power of imagination in that period, the importance of storytelling as a means of imagining possibilities in a time of radical change. We talk a lot about the importance of facts and science in discussions of our pandemic, but we don't  discuss the power of dreams to give people direction. Trump is dangerous in spite of his failures in office because he wields the power of the story, encouraging his followers to imagine a better future with his leadership. Everyone wants a better world, and he helps his followers dream of it. It may not matter in the outcome of the election because the losses and mistakes have had such dire consequences, but it does matter that we need to imagine forms of collective healing. It animates the BLM movement, and it explains Biden's characterization of himself as a healer. His followers can imagine getting well both in relation to the pandemic and in relation to our weaknesses as a nation."
Read Professor Mukerji's
entire article here
and learn about her past research and publications
at her profile here.
Lockdown: Gaza Through a Camera Lens and Historical Mirror
Gary Fields
Citation: Gary Fields; Lockdown: Gaza through a Camera Lens and Historical Mirror. 
Journal of Palestine Studies
 1 May 2020; 49 (3): 41–69. doi: 
https://doi.org/10.1525/jps.2020.49.3.41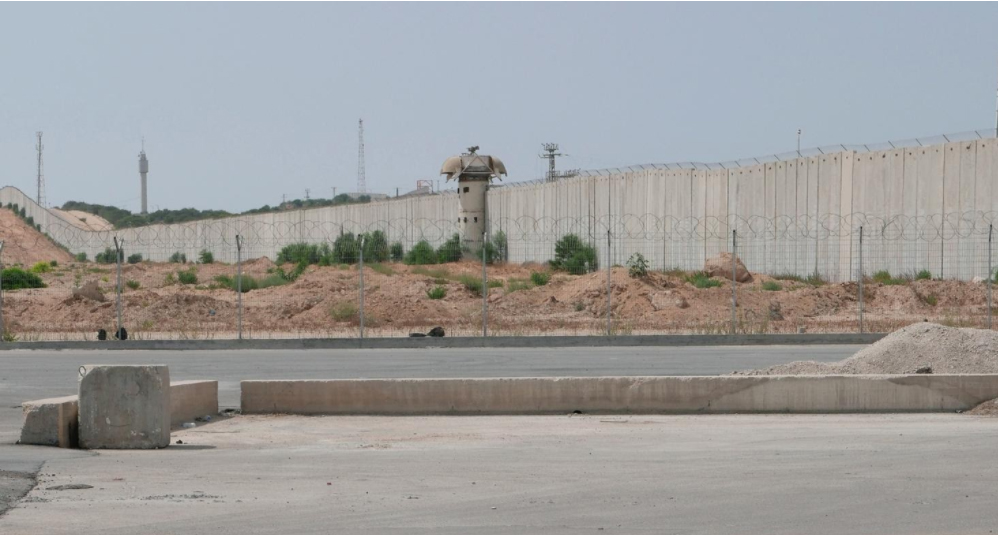 Gaza Strip, North perimeter Wall near Erez checkpoint (2017). 
Photo by Gary Fields
Author's Remarks
I began work on "Lockdown" in the Fall of 2018 and conceived of the article as a tentative first step in a new book project on the historical geography of confinement.  What I wanted to convey in the piece was how the people of Gaza suffer under conditions of incarceration forced upon them as part of daily life, but more importantly how the Gazans share this carceral condition with others, past and present. 
It's always a challenge to title a piece of writing, whether a book or an article, and in this case, I decided on "lockdown" as a colorful single-word metaphor to describe the forcible imprisonment imposed on the Gaza Strip.  Over the course of 2019, I worked on the article but of course, never imagined the calamity that awaited the world in March. 
When the article appeared in July in the Journal of Palestine Studies, it was humbling to read the introduction to the issue.  "We prepared this issue of JPS before the global lockdown in the spring of 2020," wrote JPS editors Rashid Khalidi and Sherene Seikaly:   
One indication of how deeply this moment speaks to our past and future is Gary Fields' prescient article, 'Lockdown: Gaza through a Camera Lens and Historical Mirror.'  Fields links the status of the Gaza Strip to historical carceral sites such as Algeria under French settler colonialism, the antebellum South in the United States, and plague-stricken European towns.  He highlights both Palestine's specificity, and its parallels with other times and places.  Gaza, and we would suggest Palestine writ large, can best be understood as part of what Fields calls a "broader historical lineage of confinement landscapes. 
Many of us working in isolation, especially now, often wonder whether our work resonates with the wider world.  It is gratifying to know that at least in some instances, we can reach others with our words, and hopefully make a difference.  I was also extremely pleased that the editors of JPS included twelve of my photographs of Gaza [see below].
Lockdown Abstract 
Gaza is often decried as a uniquely brutal open-air prison, but is the carceral condition imposed on the Gaza Strip part of a broader historical lineage of confinement landscapes? The argument in this essay is that Gaza belongs to a historically longstanding lineage of places and people subjected to practices of incarceration imposed on landscapes, and that the system of confinement in the Gaza Strip has escaped systematic comparison to these other confined spaces. To support this contention, the essay compares the prison-like conditions of Gaza to three examples of carceral environments: the early-modern, plague-stricken European town; the carceral landscape of the "cotton kingdom" in the antebellum American South; and the French system of confinement in the pacification of Algeria.  Using both text and photographic images, this article also speculates that situating Gaza within this comparative frame at this moment offers new opportunities for changing the discourse about Gaza to a world seemingly indifferent to the injustices suffered by the Palestinians of Gaza. 
Photos from "Lockdown"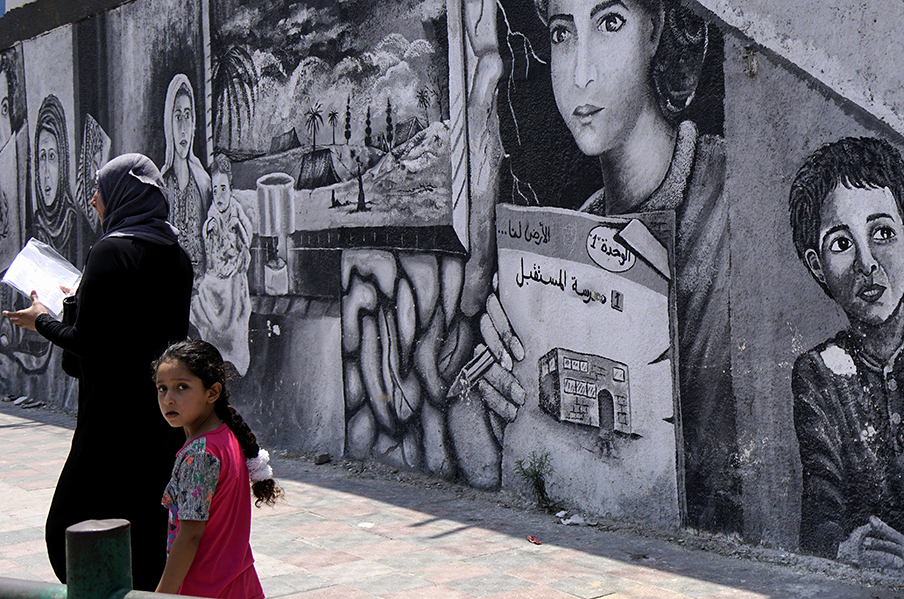 Mural near Al-Azhar University, Gaza City depicting the exile of Palestinians from their homes during the Naqba of 1948 (2017).  Photo by Gary Fields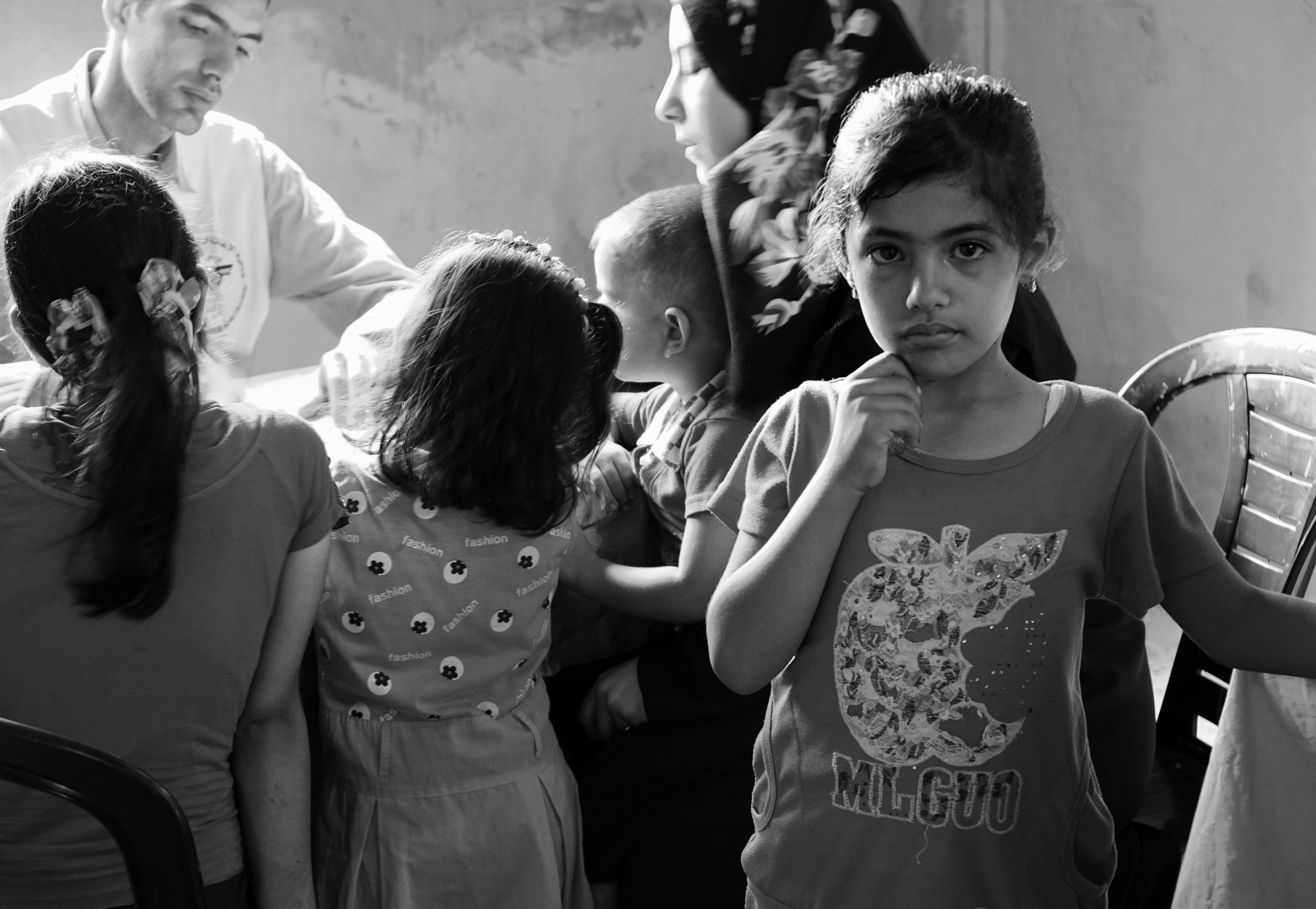 Family being treated in a mobile clinic of the Palestinian Medical Relief Society in Bayt Hanun, Gaza Strip (2015).  Photo by Gary Fields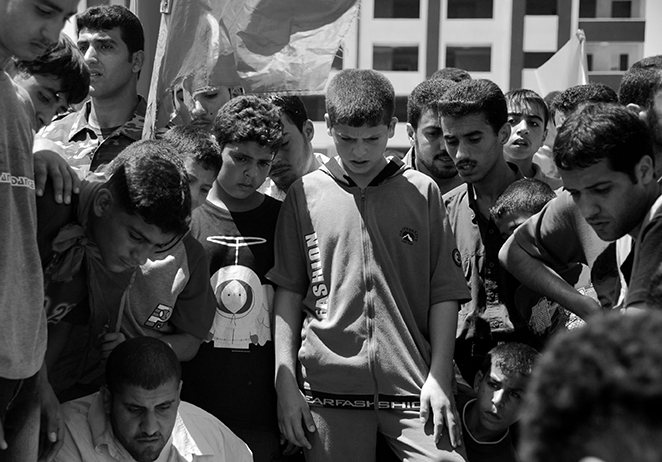 Youth in Gaza City peering into the just-lowered coffin of a 10-year old killed by an errant Israeli missile strike on a car during Operation Summer Rain (2006).  Photo by Gary Fields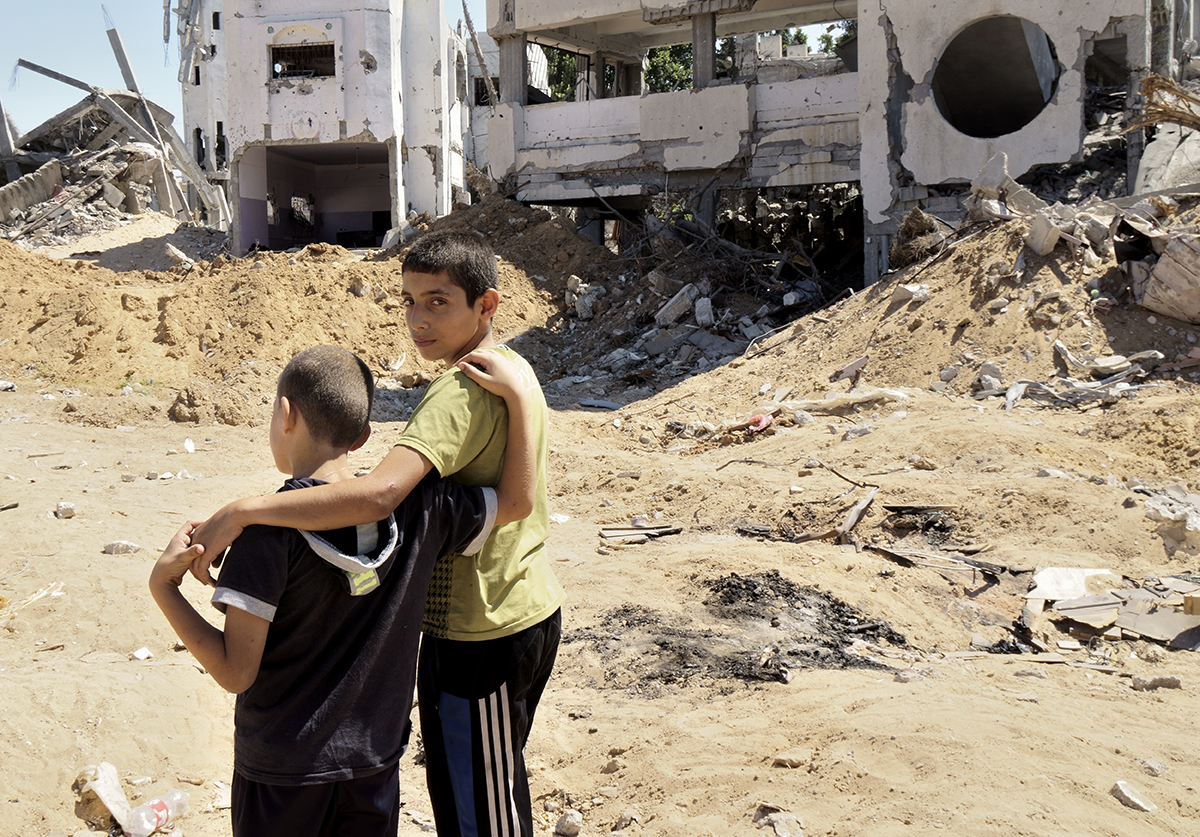 Two brothers in front of their house in the Shuja'iya neighborhood destroyed during Operation Protective Edge (2014).  Photo by Gary Fields
About the Author
Dr. Gary Fields is a Professor of Communication at UC San Diego whose work is situated in the field of historical geography and focuses on conflicts over land, and how landscapes are representations of power. Professor Fields uses comparative case studies to reveal how dominant groups in different historical and geographical environments remake landscapes as a pathway to economic, political and social domination. His research is embedded with a commitment to theoretically-driven, actor-centered accounts of power and territorial transformation and seeks to build a theory of power and the process of development by fusing geography, history, and political economy while maintaining a commitment to a scholarship of activism and critical engagement with the world.
You can read more about Professor Fields' research, publications, teaching, and journalistic engagement at his UC San Diego page here: https://communication.ucsd.edu/people/profiles/fields-gary.html