Caroline Jack
Assistant Professor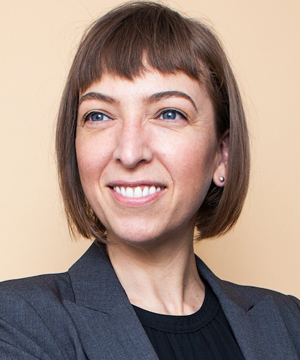 9500 Gilman Dr
Office: MCC 242
La Jolla , California 92093
About
Recent Appearances
Writings
About

I am a communication scholar working at the intersection of media history, business history, communication studies, and internet research. My research focuses on how people in power (and people who want to have power) use media for strategic sensemaking, especially around the role of business in society.

My research has been published in the Journal of Broadcasting & Electronic Media, IEEE Annals of the History of Computing, and Enterprise & Society. I have presented at the annual meetings of scholarly societies including the International Communication Association, the Business History Conference, the Association of Internet Researchers, the Society for the History of Technology, and the Society for Social Studies of Science (4S).

My training spans communication studies, media studies, and business. I hold a Ph.D. in Communication from Cornell University. I also hold an M.A. in Communication and an M.B.A., both from Saint Louis University.

Prior to my current position at UC San Diego, I was a Postdoctoral Scholar at Data and Society, an independent, non-profit research institute. I am now a Faculty Affiliate of Data and Society.

I have also been an Exchange Scholar in the

Comparative Media Studies/Writing Program at the Massachusetts Institute of Technology

; a visiting student with the

Social Media Collective

and, subsequently, a

PhD intern

at

Microsoft Research New England

; and a Graduate Researcher with the

Intel Science & Technology Center for Social Computing

. I am an alumna of the

Oxford Internet Institute

's

Summer Doctoral Programme

.
Recent Appearances

I presented a paper on histories of database marketing and the U.S. business press at the International Communication Association's Communication History Division Preconference on the Long History of Modern Surveillance, May 24, 2019.

I presented a paper on corporate involvement in notions of information literacy at the Association of Internet Researchers annual conference in Montréal, CA, October 12, 2018.

I presented a paper on business magazines' historical coverage of big data and database marketing at the annual meeting of the International Communication Association in Prague, CZ, May 25, 2018.

I presented a paper on software history, privacy, and advertising at the annual meeting of the Society for the History of Technology in Philadelphia, October 27, 2017. 

I gave two public talks at University of Massachusetts-Amherst on September 28th, 2017 (Details).

I spoke about epithets for media, the work they do, and they work they distract us from at The Conference on September 4, 2017, in a session on "Trust in a Post-Truth World." What an amazing community of folks at Media Evolution--and what a cool space, in Malmö Opera House! Watch the video here. (p.s. Scandinavian rye breads, I love you endlessly.)

At the International Communication Association annual conference in San Diego (May 25-29, 2017), I presented two papers: "Producing Milton Friedman's Free to Choose," and "Corporate Propaganda for Civic Peerhood." I hosted a panel on "Propaganda and its Others in an Age of Social Media," where I was honored to present my work alongside papers from Jayson Harsin, Göran Bolin, Sam Woolley, and Fred Turner. 

I presented work in progress on the meaning of propaganda in the era of social media at Data & Society's Propaganda and Media Manipulation workshop (May 19, 2017). 

I presented a paper on boundary disputes between economists and business advocates at the Business History Conference in Denver, CO (March 30-April 1, 2017).

CUNY community members caught up with me at the Queens College Graduate Media Studies Colloquium March 8, where I presented "Propaganda for the American Economy: Profit, Power, and Persuasion in the 20th (and 21st?) Centuries," a talk about 20th century economic education and propaganda.

I attended the "Historicizing the Economy" workshop at Harvard University September 23-24 and the O'Reilly Next Economy Conference October 9-12. 

My talk, "Performing the Sharing Economy: Of Apples, Oranges, and Peers" kicked off Microsoft Research New England's Social Media Collective 2016 Intern Research Series at 11 AM on August 15th, at the Clara Barton Room on the first floor, One Memorial Drive in Cambridge, MA. Get in touch if you'd like to know more about this ongoing research.

I gave a talk, "How Facts Survive in Public Service Media," February 18, 2016, at the MIT Comparative Media Studies Colloquium series February 18, 2016. [Update! MIT CMS/W was kind enough to record the event and has posted the audio here. Feel free to get in touch if you'd like to see the accompanying slides.] More details about the talk can be found here. 

I presented "Imaginative Hedonism and the Pleasures of Economic Literacy Media," a working paper, November 12, 2015 at the annual meeting of the Society for Social Studies of Science in Denver, CO.

I presented "Empathy for the C-Suite: Simulation Games and Capitalist Subjectivity in the American 1960s-1980s," a selection of research from my dissertation project, October 10, 2015, at the annual meeting of the Society for the History of Technology.
Writings

Here, you'll find links to stuff I've written, from peer-reviewed articles to reports and blog posts.

Research article: Producing Milton Friedman's Free to Choose: How Libertarian Ideology Became Broadcasting Balance. Journal of Broadcasting & Electronic Media (2018; Volume 62, Issue 3, pp. 514-530). In the first weeks of 1980, Public Broadcasting Service affiliates across the United States aired Free to Choose, a television series featuring the economist Milton Friedman. ...[E]xecutive producer Robert Chitester's success in bringing the series to air stemmed from two factors: first, he expressed social imaginaries that helped coordinate funding relationships with underwriters; and second, he drew on his institutional knowledge of public television production to navigate zones of regulatory ambiguity without running afoul of broadcast rules and regulations.

Blogpost essay: Grappling with the Weirdness of Advertising. Points (June 21, 2017). The question of what protections ads themselves deserve, and to what degree people deserve to be protected from ads, is ripe for reconsideration.

Report: Lexicon of Lies: Terms for Problematic Information. (August 9, 2017). Data & Society Research Institute. The words we choose to describe media manipulation can lead to assumptions about how information spreads, who spreads it, and who receives it. These assumptions can shape what kinds of interventions or solutions seem desirable, appropriate, or even possible.

Blogpost essay: What's Propaganda Got to Do with It? Points (January 5, 2017). Calling out news — whether real or fake — as propaganda expresses anxieties over media power, but is it helping us a get a grip on the media landscape?

Blogpost essay: Imagining the Sharing Economy. Points (November 21, 2016). Economies are objects of imagination: they emerge from the choices we make about how to measure them, and the stories we tell about what those numbers mean. 

Blogpost essay: Social Good in the Sharing Economy. The Knight Foundation (October 19, 2016). Talk about economies is a way of working out moral visions for the present and the future. Will our reality be one where wealth is distributed broadly, or one where disproportionate prosperity is limited to a fortunate few?

Thinkpiece: Meaning and Persuasion: The Personal Computer and Economic Education. IEEE Annals of the History of Computing (July-Sept 2016). As the personal computer became associated with business identities in the final decades of the 20th century, software became an increasingly viable site for reflecting, maintaining, and shaping cultural understandings of business and economics.

Research article: Fun and Facts about American Business: Economic Education and Business Propaganda in an Early Cold War Cartoon Series. Enterprise and Society (September 2015, lead article). In the late 1940s and early 1950s, millions of theatergoers, students, and industrial workers saw one or more animated short films, shot in Technicolor and running eight to nine minutes, that were designed to build public support for the principles and practices of free enterprise (example of the films here).