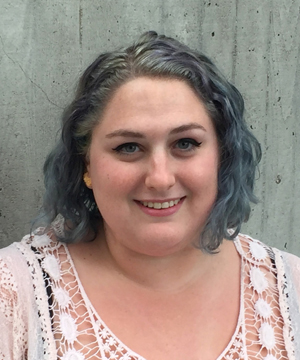 9500 Gilman Dr
Media and Communication Center
Mail Code: #0503
La Jolla , California 92093
Bio
Education
Selected Publications
Bio
Keywords
Fat Studies, Disability Studies, STS, Narrative Medicine/Health Humanities, Feminist Studies, Online Communities
Overview
My research explores the relationship between health, medicine, and marginalized bodies. I'm interested in how the concept of "health" becomes moralized and used against people who don't fit into its definition, especially fat and/or disabled people. What are the consequences of being left out of what's considered "healthy?" How is this exclusion perpetuated in medical education? How can we fix it? One of my career goals is to work in a medical school so I can address these issues firsthand, as well as teach medical students about the history and ramifications of their curriculum.
Prior to UCSD, I taught as a Part-Time Lecturer at Rutgers University in the Women's and Gender Studies Department and at Sarah Lawrence College in the Master's of Health Advocacy Program.
Education

Ph.D. Student in Communication and Science Studies, University of California, San Diego, 2016 – Present

M.S. in Narrative Medicine, Columbia University, 2015

B.A. in Biology, Wesleyan University, 2014
Selected Publications
Publications
Fox, Rachel. "Against progress: Understanding and resisting the temporality of transformational weight loss narratives." Fat Studies (2017): 1-11.
Fox, Rachel. "Too Fat to Be a Scientist?" The Chronicle of Higher Education. 17 June 2014. The Conversation.
Book Reviews
Fox, Rachel. "Why Diets Make Us Fat." (2017): 1-3.
Presentations & Appearances
2017
Fox, R & Hartman-Rogers, J. "Emotional Labor and the Affective Performance of Objectivity in Fat Studies," UC San Diego Science Studies Program Biennial Graduate Conference, May 19-20, 2017, San Diego, CA.
Fox, R. "A Hybrid Actor-Network Theory Analysis of the Let's Move! Campaign," PCA/ACA 2017 Annual Conference, April 12-14, 2017, San Diego, CA.
Panel Chair: PCA Fat Ambivalence and Liminality
Park, K & Fox, R. "Weight Stigma Reduction among Medical Students through Narrative Medicine," Best of Cool Ideas Oral Presentation at the Innovations in Medical Education Conference, February 25, 2017, Los Angeles, CA.
2016
Film Appearance: The Sixty-Six Percent, dir. Natalie Abruzzo, March 11, 2016.
2015
Fox, R & Edmondson-Gupta, N. "Fat & Disabled: The Embodied Experience," ASDAH 2015 Annual Conference, July 17-19, 2015, Boston, MA.
Fox, R. "Fat Temporality and the Fantasy of Being Thin," IHH 2015 Annual Conference, April 30-May 2, 2015, Denver, CO.
Fox, R. "Fat Temporality and the Fantasy of Being Thin," PCA/ACA 2015 Annual Conference, April 5-7, 2015, New Orleans, LA.
Awards
Graduate
UCSD Kroner Family Dean's Fellowship
Co-Recipient, Columbia University Narrative Medicine Fellowship
Co-Recipient, Keck School of Medicine Althea and Fredric Alexander Student Support Fund
UCSD Department of Communication First Year Doctoral Fellowship
Undergraduate
Wesleyan University Sonnenblick Fellowship, Grabel Lab
Olin College Summer REU, Pratt Lab
Olin College Full Tuition Scholarship