Angela Booker
Associate Professor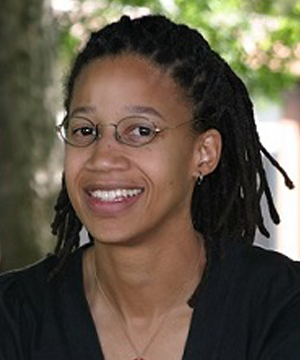 9500 Gilman Dr
La Jolla , California 92093
Bio
Education
Publications
Awards and Honors
Bio

Youth Civic and Political Participation; Learning in Informal Settings; Media and Technology for Learning; Mathematics in Context; Parent Advocacy; Anthropology and Education; Qualitative Research Methods

Angela Booker is currently studying ways youth, families, and schools make use of media and technology for participation, learning, and community development. She is particularly concerned with addressing barriers that diminish access to public participation among underrepresented and disenfranchised communities. She uses ethnographic, qualitative, and design-based research methods to examine typical and emerging practices where youth and adults work together (and at times, in conflict). Collaborations with youth, community partners, educators, and scholars form the basis of her work.
Education

Ph.D. in Education, Stanford University, 2007
Publications

Nuñez-Janes, M., Thornburg, A., & Booker, A. (2017) Deep Stories: Practicing, Teaching, and Learning Anthropology with Digital Storytelling. Walter de Gruyter GmbH & Co KG. 

Vossoughi, S. & Booker, A. (2017). "Transcultural Prefigurations: Reflections on Dynamic Relations between Local Movements and Social Movements." Anthropology & Education Quarterly. 48(3), 225-228. 

Booker, A. (2017) "Contingent authority and youth influence: When youth councils can wield influence in public institutions." Revista de Investigación Educativa, 35(2). 

Booker, A. (2016). "Ethical Commitments in Community-Based Research with Youth." Mind, Culture, and Activity. 23(1), 15-27. 

Booker, A. & Goldman, S. (2016) "Participatory Design Research as a Practice for Systemic Repair: Doing Hand-in-Hand Math Research with Families." Cognition and Instruction, 34(3).

Power and privilege in the learning sciences: Critical and sociocultural theories of learning. (2016) Eds. Booker, A., & Esmonde, I. Taylor & Francis.

Booker, A., Montgomery-Block, K., Scott, Z., Reyes, b., & Onyewuenyi, A. (2011). "Public scholarship within an urban school district: A community and university partnership approach to service-learning." Journal of Public Scholarship in Higher Education, 1, 67-87.

Booker, A. (2010). "Framing youth civic participation: Technical, pragmatic, and political learning." In L. Lin, H. Varenne, & E. W. Gordon, (Eds.) Educating comprehensively: Varieties of educational experiences (209-231). Lewiston, NY: Edwin Mellen Press.

Goldman, S., & Booker, A. (2009). "Making Math a Definition of the Situation: Families as Sites for Mathematical Practices." Anthropology and Education Quarterly, 40(4), 369-387.

Goldman, S., Booker, A., & McDermott, M. (2007). "Mixing the digital, social, and cultural: Learning, identity, and agency in youth participation." In D. Buckingham. (Ed.) Youth, identity, and digital media (185-206). MacArthur Foundation Series on Digital Media and Learning.

Goldman, S., Mercier, E. M., & Booker, A. (2009). "Partnering with K-12 educators in collaborative design of learning technology." In C. DiGiano, S. Goldman, & M. Chorost. (Eds.) Educating Learning Technology Designers (62-79). New York, NY: Routledge.

Booker, A., Goldman, S., & Mercier, E. M. (2008). "Interdisciplinarity in learning technology design courses." In C. DiGiano, S. Goldman, & M. Chorost. (Eds.)

Educating learning technology designers

(122-144). New York, NY: Routledge.
Awards and Honors
Jan Hawkins Early Career Award for Humanistic Research and Scholarship in Learning Technologies, Division C – Learning and Instruction of the American Educational Research Association, 2013

Fellow, UC Center for Collaborative Research for an Equitable California (2012)

Council on Anthropology and Education (CAE) Presidential Fellow (2010)

Council on Anthropology and Education (CAE) Outstanding Dissertation Award, Honorable Mention, 2009

IBM Distinguished Student Research Award, 2003

Stanford University School of Education Nicoll Fellowship and Research Award, 2002