Elana Zilberg
Associate Professor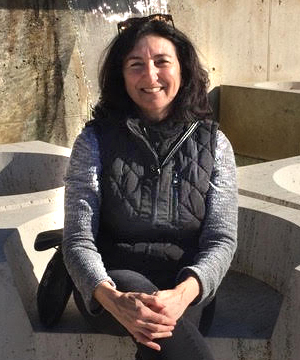 9500 Gilman Dr
Office: MCC 206
La Jolla , California 92093
Bio
Education
Publications
Bio
Affiliations
Co-Director with Professor Matilde Córboba Azcárate, Nature, Space and Politics, International Institute https://naturespacepolitics.ucsd.edu/ (2017-Present)
Principal Investigator, The University of California Collaboratory for Ethnographic Design (CoLED) http://coled.ucsd.edu/ (2015-2017)
Co-Founder with Professor Eli Elinoff, The Studio for Ethnographic Design http://sed.ucsd.edu/ (2012-2017)
Faculty Affiliate:
Overview
My earlier work focused on security, space, and mobility between the United States and Latin America. In my book Space of Detention: The Making of a Transnational Gang Crisis between Los Angeles and San Salvador (Duke University Fall 2011), I tracked the production of transnational space through the combined forces of neoliberalism and globalization, and the intersection between immigration, criminal, and antiterrorist law. My new work on urban river revitalization movements extends my interest in the production of space and urban built environment into the domains of urban nature, infrastructure, and environmental activism. 
Trained as a cultural anthropologist, I am committed to exploring how ethnographic methodology can be of use to students in Communication and Science Studies, and how these disciplines push the method in new and productive directions. I teach graduate seminars on ethnographic methods and writing, and I am co-founder of the Studio for Ethnographic Design on campus.
Education

Ph.D in Anthropology from the University of Texas at Austin, Department of Anthropology (2002)
Publications
Books
Space of Detention: The Making of a Transnational Gang Crisis between Los Angeles and San Salvador
 (Durham, N.C.: Duke University Press Fall 2011).
Book Manuscript
Bridging Divides: Reimagineering Race, Nature, and Infrastructure at the Los Angeles River. (In progress.)
Book Chapters
"The Military Option: Surplus Masculinities, Violence and the State" in 

Post-Colonial Moral

 

Panics, Micol Seigel ed. Routledge, 2018.

"Yes, we did!", "¡Si se pudó!": Regime Change and the Transnational Politics of Hope between the U.S. and El Salvador," in

 

Neoliberalism, Interrupted: Social Change and Contested Governance in Contemporary Latin America. Edited by Nancy Postero and Mark Goodale (Forthcoming with Stanford University Press 2013).
 "Inter-American Ethnography: Tracking Salvadoran Transnationality at the Borders of Latino and Latin American Studies" in

 

Companion to Latino Studies. Juan Flores and Renato Rosaldo, eds. Oxford: Blackwell (2007).
"Refugee Gang Youth: Zero Tolerance and the Security State in Contemporary US-Salvadoran Relations, in

 

Youth, Law and Globalization, Sudhir Venkatesh and Ronald Kassimir, eds. Stanford: Stanford University Press (2007).
Articles
"Disquieting Complicities: Ethnography, Scholarship and Advocacy." Journal for Contemporary Ethnography

 for Special Issue on "Migrant Narratives and Ethnographic Tropes: Navigating Tragedy, Creating, Possibilities," eds. Susan Coutin and Erica Vogel, Vol. 45, Issue 6, 2016:716-740

"Gangster in Guerilla Face: The Political Folklore of Doble Cara in Post-Civil War El Salvador," in

 

Anthropological Theory. Yael Navarro and Kay Warren, eds. (Vol. 7 No. 1, March 2007).
"Fools Banished from the Kingdom: Remapping Geographies of Gang Violence between the Americas (Los Angeles and San Salvador)."

 

American Quarterly, Vol. 56, Number 3, 759-779, 2004).
"A Troubled Corner: The Ruined and Rebuilt Environment of a Central American Barrio in Post-Rodney King Riot Los Angeles," in City and Society IVX(2):31-55 (2002).
"Falling Down in El Norte: A Cultural Politics of the ReLatinization of Los Angeles,"in Wide Angle,Guest editors Jesse Lerner and Clark Arnwine,special issue on film, architecture and urban space, Vol. 20, no. 3, 182-209 (1999).
From the Rodney King Beating to Immigrant Bashing: Searching for New Social Movements in the Ruins of El Norte" in

 

(sub)Text, December 1994, Volume 1, Issue 4.
In Spanish
"Los locos expulsados del reino: Delineando nuevamente la geografía de la violencia de las pandillas entre las Américas (Los Ángeles y San Salvador)," in

 

Ciudades translocales en las Americas: Espacio, flujos y representación.  Co-edited by Marcial Godoy-Anativia and Rossana Reguillo. Guadalajara, Mexico: ITESO Press with the Social Science Research Council . 2005.
"Una esquina problematica: el medio ambiente destruido y reconstuido de un barrio centromamericano de Los Angeles,"

 

in

 

Estudios Centroamericanos, July-August, 2004, 696-710
"'Se han vuelto haraganes': Jovenes, migración y identitades laborales," with Mario Lungo in Transformando El Salvador:

 

Migración, Sociedad y Cultura, Mario Lungo and Susan Kandel eds., San Salvador: FUNDE, 1999, 39-93.
"La relocalización de la cultura en la migración internacional salvadoreña," in

 

Migración Internacional y Desarollo, Vol. II, Mario Lungo ed., San Salvador: FUNDE, 1995, 127-161.